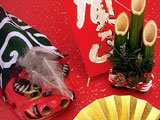 In Japan, December is considered to be the busiest month of year as a series of events such as Christmas, Bonenkai (end-of-year party), Osoji (general house-cleaning), and preparation for the New Year take place. This page introduces you to the end of year events in Japan.

<Christmas>
As you know, Christmas is a Christian celebration. However, it became one of the biggest year-end events in Buddhist Japan after the World War II, and it was developed into a non-religious Japanese style Christmas. The Japanese enjoy exchanging presents and eat Christmas cakes. Going to the church on the eve is not very popular in Japan. Instead, Christmas party is held on the eve with friends instead with family, and chicken is eaten as a Christmas feast instead turkey. Thus it became more like Japanese style Christmas.

<Bonenkai>
Though it is the busiest month of year, December is also the time for the Japanese to enjoy Bonenkai. Bonenkai literally means a party for forgetting the year. Usually sections of companies, social groups and close friends have own Bonenkai. Many restaurants and Izakayas (Japanese style pub) are full in December because of this event.

<Osoji>
Among a great many annual events, Osoji (general house-cleaning) is one of the most essential preparations for Oshogatsu or the New Year. In addition to the usual cleaning, the cleaning of window screens, kitchen fan and room lumps, those of which are rarely done by daily cleaning, are done. Osoji is not merely a thorough cleaning, but it originally has a religious significance of purification. Osoji must traditionally be done by all family members, though nowadays female members of a house are tend to be in charge of it.

<Preparation for the New Year>
One of the most essential preparations for Oshogatsu (the New Year) is cooking Osechi Ryori (new year plates). Osechi is eaten during the first three days of Oshogatsu. It must be cooked ahead of time, so that the mother can share in the joys of Oshogatsu without spending all her time in the kitchen. Osechi is neatly packed in a Jubako, a 4-5 tiered lunch box, and each food has meaning which make a Japanese New Year merry. Some of the meanings are as follows;

Bamboo Shoot: bamboo shoot with a lot of joint stands for constancy
White Radish (Daikon): it symbolizes a long life
Datemaki: Rolled omelet means progress of learning
Kuromame: Black sweetened soybeans mean hard working
Kazunoko: Herring roe means to be blessed with children

Another important preparation for Oshogatsu is the New Year decorations such as Kadomatsu (pipe-tree branches) put up at the gates, Shimenawa (a sacred straw festoon) hunged above the front door, and Kagamimochi (round mirror-shaped rice cakes) offered in the alcove of the main room or on Kamidana (the household altar). Those decorations must be completed by December 30 as one-day decoration is believed to be unlucky.

<Omisoka>
Omisoka is the last day of the year, which is December 31st. Preparations for the New Year are to be made by Omisoka. Typically, the Japanese spend Omisoka night eating mandarin oranges in Kotatsu (a table with a heater and a coverlet) and watching NHK Kohaku Utagassen (the annual singing contest on New Year's Eve). Also, there are two more important events that should not be forgotten, which are listening to Joya-no-Kane and eating Toshikoshi Soba. On New Years' Eve, temples ring Joya-no-Kane, or the watch-night bell, 108 times, wishing to relieve the human sufferings caused by men's earthly desires, which amount, according to Buddhist belief, to 108. Toshikoshi Soba is the soba noodle eaten on the New Year's Eve. As noodles being long, we eat the noodles wishing our long lives.