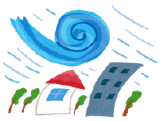 【When to Be Careful】
Heavy Rain
 ●River bank can collapse in the upper reach, etc. of a river.
Typhoon
●River water can overflow its bank due to a heavy rain and a storm surge (a phenomenon that causes a rise in sea level and water from the sea flow into the land).

※Normally, heavy rains and typhoons do not have such a high risk of causing damage, but special attention is required when unprecedented levels of heavy rains and typhoons hit the area.

【Characteristics】
 ●We have time to evacuate because risks of disasters can be predicted in advance.
 ●Once a city is flooded, it takes several weeks until the flood water recedes.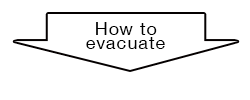 Evacuate to a Safer Place as soon as Possible
●Evacuate to an area where you can avoid flood damage (get away from a dangerous place and evacuate to a safer one) within Katsushika City or in neighboring cities (Ichikawa City and Matsudo City of Chiba Pref., Taito City, Sumida City and Arakawa City, etc.).
●Please follow information from Katsushika City because a designated evacuation center of your residence can change depending on which river floods.
●Please evacuate on foot, by bicycle or by using public transportation.

Evacuate to a Tall Building if Failing to Escape
●If water already overflows into the area and there is no time to escape, evacuate to a nearby tall building called "Emergency Evacuation Building for Flood Hazard".  e.g.) Public facilities of Katsushika City, Tokyo public housing complex and UR rented housing, etc.
●The "Emergency Evacuation Building for Flood Hazard" is a temporary evacuation center, therefore you cannot live there on a long-term basis. You may only use joint ownership spaces such as a hallway.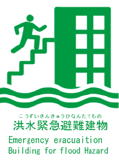 What Will Happen if You Stay in Flooded Areas?
●Will not be able to use electricity, gas and tap water.
●Will not be able to undergo treatment for a disease or an injury because you cannot go out.
●Will not be able to get foods and beverages.