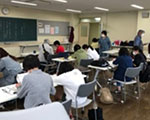 Since the class is for students of elementary school, Jr. high school and high school, our activity is held mainly on when there is no school or no class.

<Regular Activities>
1) The exchange gethering 3times a month as mentioned below.
2) Study support volunteering for the Set-up Class at the Education center.
 ※The first to third graders of elementary school need to attend the class with a parent/ guardian.

<Other Activities>
1) Intensive study/ exchange session (3 to 4 days) to help school homeworks during the spring, summer and winter break.
2) Individual support at school by the request from a school principal.
3) Other special activities such as
 ・Seasonal exchange events (cherry blossom party and firework festival) and educational visit to Tokyo University of Science, etc.
 ・Special study session for examination takers after school, night time and holiday at community centers and other public facilities.
 ・and more.

※Please contact by phone or email for details. Activity dates are subject to change due to school events.